Meet the Brokers
WES KOENIG ~ CPYB (Certified Professional Yacht Broker) - 29 years
I was born in Billings, Montana - you guessed it, no water. However, it all changed for the good when I was drafted in the Army and stationed at Madigan General Hospital in Seattle/Tacoma area, and worked as an x-ray tech during my 3 years. I never went back to Montana. The water, the islands, and yes, BOATS, well, I was 'Hooked"!
Married, and with a teenage son and daughter (back in the 1970's) we put our kids on correspondence schooling, bought a 35' Fuji cutter sailboat sailed around the Pacific Northwest...then on to Mexico, the Marquesas Islands, Tuamotu Atoll Islands, Society Islands, Tahiti, Hawaii and back to Bellingham Wash. All with a sextant and a depth sounder. A great 4 years!
My passion for the water and boats has never left me. I lived aboard our sailboat for 10 years, started working in boat brokerage in 1984, and also was on staff with MasterCraft Ski Boats from 1986 - 2008 as Western Regional Coordinator and a competitive water skier.
This professional lifestyle with boats has included deliveries to Mexico, through the Caribbean, Bonaire, Panama Canal, Cocos Island, and Costa Rica. Lot's in the Northwest too!
The passion lives on as a "Certified Professional Yacht Broker", working with clients and finding the "Right Boat" for them. My boat search and travels with clients has reached beyond our local area, including the East & West coasts, Great Lakes, Florida, Mexico, and British Columbia.
Being involved for 29 years in the boat brokerage with surveys and sea trials on a lot of different boats and of course the "friendship" formed with clients from all over, really is a special highlight to my profession!
The Pacific Northwest is sooooo "Beautiful" ~~~ "Thank You LORD! -
Brand New Day!
Wes Koenig ~ CPYB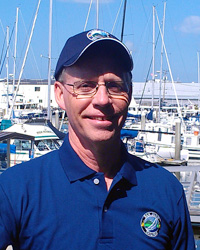 LOTHAR TAYLOR
Boating has been a life-long passion for me. While growing up in the Midwest, canoe trips on Wisconsin rivers and fishing trips to various lakes and rivers, I was always happy on the water. Once out of school, I pursued a career in commercial / business aviation for 32 years.
During that working career I had a number of boating experiences. I learned to sail on Seattle's Lake Union (1986), owned a Bayliner ski boat and motored a lot of lakes and the Mississippi River, sailed and raced while living in Orange County California. Then it came time to move on and retire from full-time employment (2010). I have transitioned into semi-retirement and now pursue what I like to call my encore careers, sailing and powerboat instruction, charter boat ownership, business development and boat brokerage.
I'm an ASA and RPBA rated instructor and a licensed Coast Guard captain. I truly enjoy working with others that wish to advance their boating skills, either sail or powerboat.
My wife Donna and I took the plunge in 2013 and purchased a twin screw motor yacht. It's in the San Juan fleet and we enjoy her whenever she's not out giving others the same wonderful experiences we know in the Salish Sea.
And now with a long line of experiences in home and business transactions and a wife who was a licensed real estate agent for over ten years, I'm here to support you in your next boating experience. My colleague and mentor, Wes, and I are here at San Juan to help you find the right boat or help you sell the one you have and move on to your next adventure.