Sample Two-Week Desolation Sound Flotilla Itinerary
Week 1
Day 1 - Bellingham to Bedwell Harbor/Poet's Cove Resort (32NM) - Sail around the north end of the San Juan Islands archipelago to Bedwell Harbor on South Pender Island, BC. This is the Canadian Customs clearance point and the entrance to the Gulf Islands. Dock at the beautiful, new Poet's Cove Resort and Spa, taking advantage of the resorts pools, hot tubs, tennis court, pub and restaurant. Or you may tie up to a mooring buoy at nearby Beaumont Park (a short dinghy ride to the resort).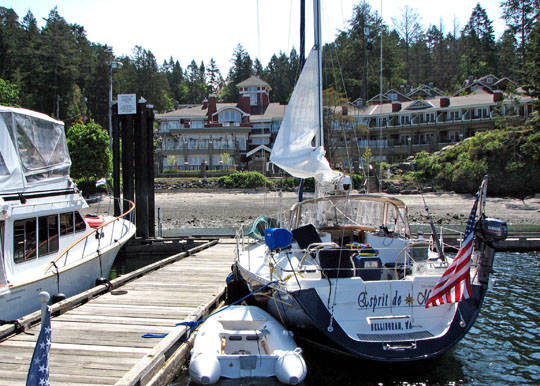 Day 2 - Bedwell Harbor to Silva Bay (34NM) - Wind your way north through the forested shores of Swanson and Trincomali Channels, through Porlier Pass, and on to Silva Bay on the southeast end of Gabriola Island. Popular Silva Bay offers a choice between well protected anchorage with good holding ground or one of two marinas. Silva Bay Resort and Marina also offers a pub, liquor store, showers, fuel and laundry.
Day 3 - Silva Bay to Ballet Bay (42NM) - Cross the broad expanse of the Strait of Georgia and head north along the Sunshine Coast to Ballet Bay. Tucked against Neslon Island and surrounded by smaller islets, Ballet Bay offers a cozy, protected and peaceful anchorage.
Day 4 - Ballet Bay to Lund (29NM) - Then it's north past Powell River and up Malaspina Strait to a tiny fishing village at the doorstep of Desolation Sound. Lund provides docks (including floating docks without services), a small market and beautiful pub/restaurant overlooking the Strait of Georgia with its spectacular sunsets. In the morning, it's a short stroll to a bakery with lots of delicious fresh-daily treats and specialty espresso coffees before departure.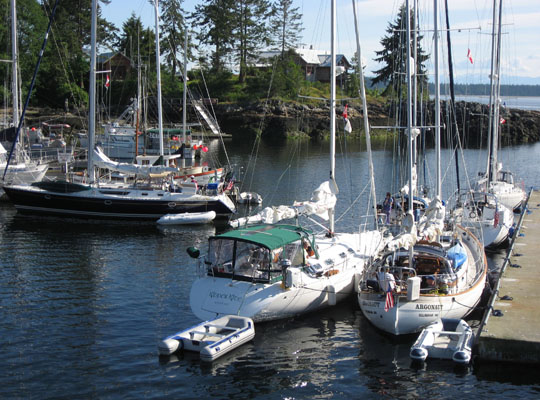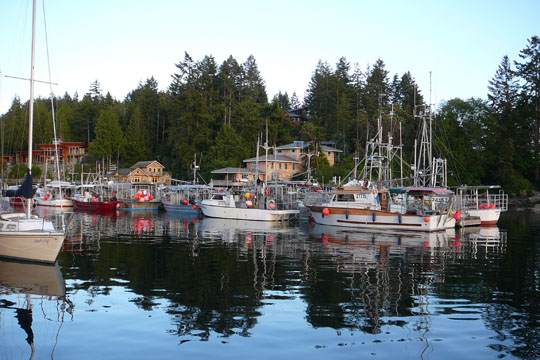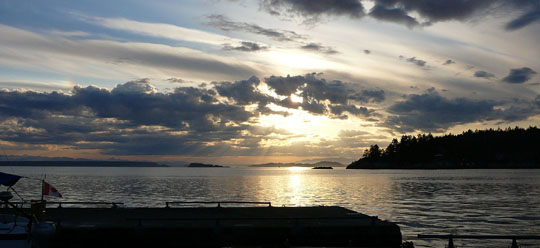 Day 5 - Lund to Wildnernest Marina at Toba Inlet (25NM) - Heading north through the Discovery Islands to Toba Wildernest Marina, perched at the entrance to Toba Inlet. Wildernest offers docks, water, WiFi, a shower, and several miles of hiking trails...all surrounded for miles by nothing but trees, water, mountains, islands and wildlife. As time and weather allow, make a run northeast along Toba and enjoy the many waterfalls.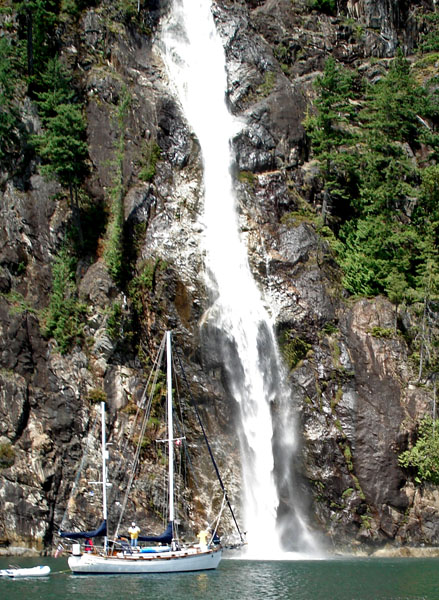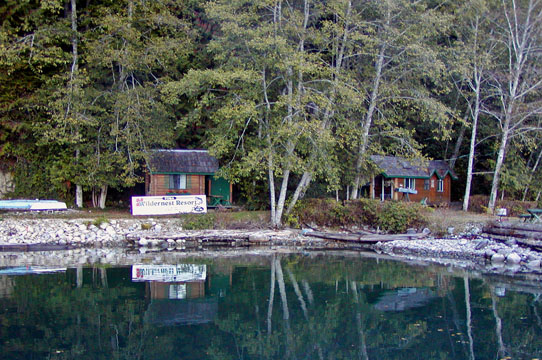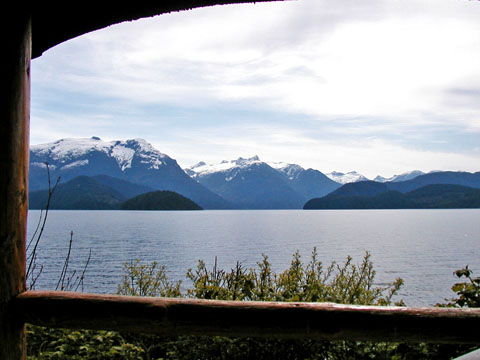 Day 6 - Toba Wildernest Marina to Octopus Islands Marine Park (20NM) - Down Pryce Channel we'll breeze through Hole in the Wall at slack and anchor among this emerald cluster of islets. Idyllic coves and bays to explore with dinghy or kayak, or just sit back and relax and drink in the vistas. Toba Wildernest Marina.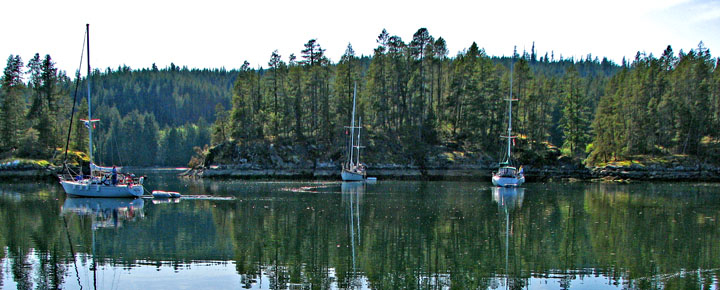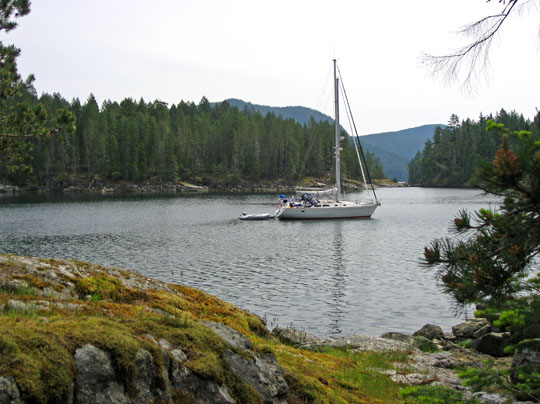 Day 7 - Octopus Islands Marine Park to Heriot Bay, Quadra Island (14NM) - South along Okisollo Channel, through Surge Narrows, and down Hoskyn Channel to Heriot Bay Resort and Marina. Nearby grocery and liquor stores make for easy reprovisioning. Marina offers fuel, power, showers, a pub and a restaurant. If you are changing out crew after the first week this will be the place to do so.
Week 2
Day 8 - Heriot Bay to Squirrel Cove, Cortes Island (25NM) - Cross Sutil Channel and slither through Uganda Pass, then down around the south tip of Cortes Island and up the eastern shore to Squirrel Cove. If you'd like, stop at the public wharf at the entrance to Squirrel Cove for showers, provisions, or ice, then continue on to anchor in the protected inner bay. At this stop we usually try to arrange for a shoreside bonfire during the evening.
-->
Day 9 - Squirrel Cove to Melanie Cove, Prideaux Haven (10NM) - Option to swing by Teakerne Arm on West Redondo Island to view Cassel Falls before continuing southeast to the intricate coves of Prideaux Haven. We'll anchor for the night (with stern tie) in pristine, protected Melanie Cove. You will definitely want to hop in your dinghy to explore Melanie Cove and the tiny inlets and islets of Prideaux Haven. If you've read "The Curve of Time" by M. Wylie Blanchet you'll particularly enjoy being able to spot Mike's apple trees in Melanie Cove, remnants of the foundation of Phil's cabin in Laura Cove, and which island might have been "flea" island.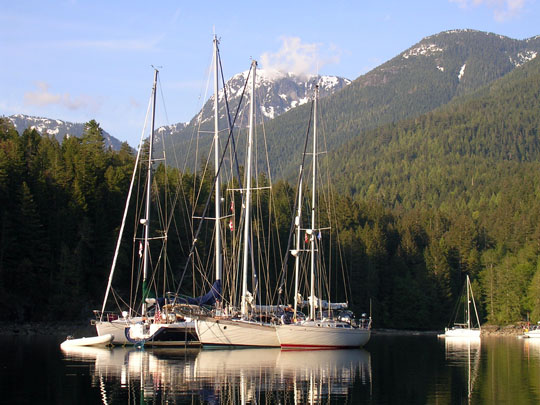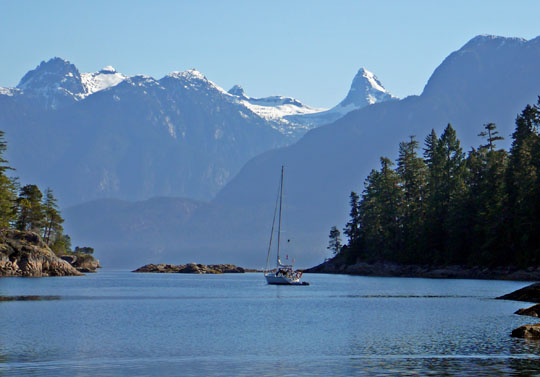 Day 10 - Melanie Cove to Beach Garden Resort (30NM) - Leaving Desolation Sound, head down Malaspina Straight to Beach Gardens Resort and Marina at Powell River on the Sunshine Coast. The marina offers fuel, water, WiFi, power, laundry, showers, beer/wine sales, and a restaurant/pub.
Day 11 - Beach Garden to Smuggler's Cove (28NM) - Down the Sunshine Coast and past Texada Island, Smuggler's Cove Marine Park lies hidden beyond a narrow entrance. Anchor with a stern tie then hop in your dinghy to explore the warren of small coves and islets...or take a bit of time to enjoy the shoreside trais.
Day 12 - Smuggler's Cove to Clam Bay, Thetis Island (38NM) - Head south and across the straight of Georgia to return to the Gulf Islands. We'll anchor tonight at roomy Clam Bay, between Thetis and Penelakut Islands.
Day 13 - Clam Bay to Rosario Resort, Orcas Island, or Blind Bay, Shaw Island (42NM) - Cruise down through the Gulf Islands to cross Boundary Pass and clear customs at Roche Harbor. Then we'll continue through the San Juan Islands to either anchor at sheltered and scenic Blind Bay on the north side of Shaw Island or dock (or buoy) at historic Rosario Resort.
Day 14 - Rosario or Blind Bay to Bellingham (22NM) - Today we return across Rosario Strait and Bellingham Bay, to conclude the flotilla in Bellingham. Goodbye and until next time!