What's next for Grads?
Congratulations! You are now a Bareboat Charter Certified Skipper
Are you ready to begin a new adventure?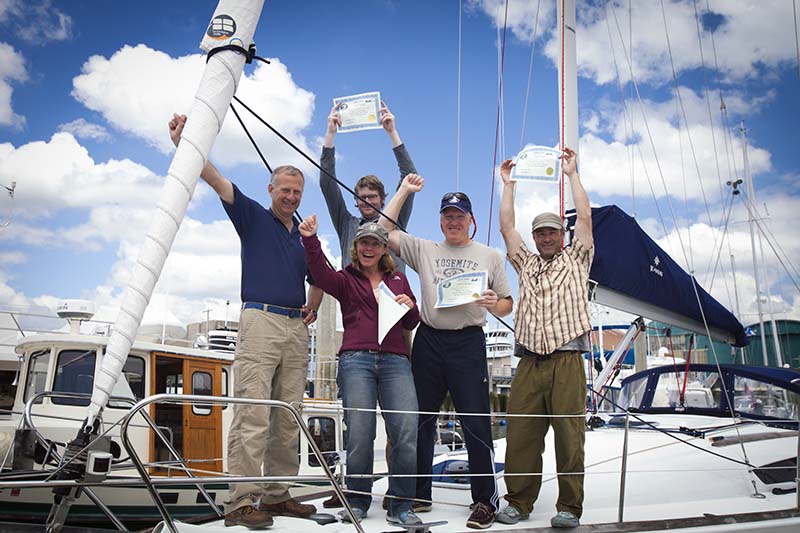 CHARTER

Includes a Risk Free Guarantee



Charter one of San Juan Sailing's 35 cruising sailboats (30' - 49'). As a Preferred Charter Guest, you may take 5% off the charter rate for any SJS boat, any season. Second consecutive charter week is 10% off, third and beyond are each 15% off. We also offer a RISK FREE GUARANTEE for all our Bareboat Charter School Grads on their first charter. Since it is imperative to use your skills (so you don't lose them), we want to encourage you to come back and begin sailing right away. Schedule your first charter the week following your Learn-n-Cruise (or soon after your ASA 104 course). If you return from your Learn-n-Cruise, with a charter following, and feel you aren't ready, you can cancel your charter with no strings attached. We are that confident that your training at San Juan Sailing will fully prepare you to Bareboat Charter. The Risk Free Guarantee is valid during the entire season you took your training.
JOIN A FLOTILLA

A great "next step" following your Bareboat Certification. Enjoy the added confidence of boating alongside others for your first time out as a Bareboat Skipper. Charter a boat or reserve a stateroom and increase your skills in the company of other sailors and with an ASA certified flotilla leader (who's also a USCG Captain). We will take $50 off your stateroom or waive the $250 flotilla fee, which includes daily history, route, naturalist and weather briefings, periodic "rafting" with complimentary beverages, and pot-luck get-togethers. Contact us for flotilla information at charter@sanjuansailing.com or at 1-800-677-7245.
GO TO GRAD SCHOOL Receive $100 off any week-long and docking course

Advanced Weeklong

Achieve certification in Coastal Navigation/ASA 105 and Advanced Coastal Cruising/ASA 106 in a Spring or Fall weeklong course. Tuition: $1695 per person, includes flotilla fee, all ASA certifications and food for the week. This course is one way and transportation costs are the responsibility of the student. We'll help you with the coordination. For details and course options click here.
Docking Endorsement

This ASA 118 on-the-water course will instill confidence and teach skills needed in maneuvering and docking. Experienced and novice sailors alike will learn the theories behind docking along with ample helm time and line handling practice. Our $100 off coupon for all 104 Grads makes this course hard to pass up! Click here for course details and dates offered.
Cruising Catamaran Weeklong

Sail our luxurious Lagoon 400 catamaran and achieve Bareboat Cruising Charter certification/ASA 104,  Coastal Navigation/ASA 105 while completing Cruising Catamaran/ASA 114. Tuition: $1695, includes all ASA certifications and food for the course. For course details click here.

BUY YOUR OWN BOAT

Take advantage of the vast knowledge and experience our boat brokers can provide in finding the boat of your dreams. Contact Wes Koenig or Tim Hoving at brokerage@sanjuansailing.com or call at 1-800-677-7245 – your professional boat advisors.