Cruising Guide for the Waterways of
the Pacific Northwest
This wonderful cruising ground offers so much to see that there is just plain never enough time to see it all. This will keep you coming back time and time again to revisit your old favorites and discover some new ones. If this is your first time in the islands we do have a few suggested itineraries that we think will give you a good overview.
Remember, these are just guidelines... have fun exploring!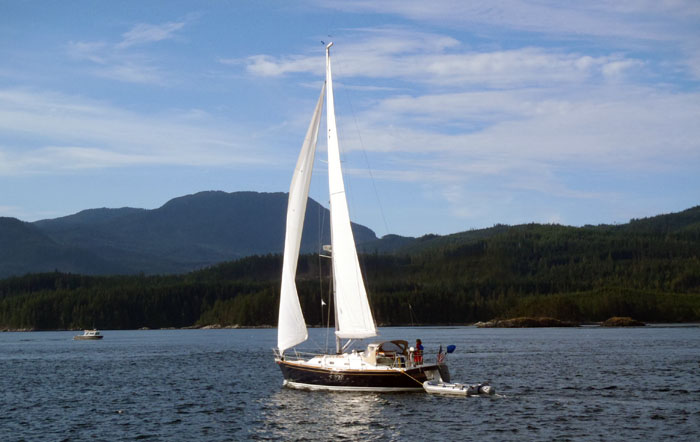 ---
Here is a list of just a few of the things you can do when cruising the
San Juan Islands, Gulf Islands and Desolation Sound:
Tour the sculpture garden at Roche Harbor.
Visit English Camp at Garrison Bay or American Camp at Griffin Bay (both on San Juan Island) to relive the Pig War of 1859.
Feed a fish to Popeye, the resident seal at Friday Harbor. If she's not around, stop by and say "hi" to her statue.
Visit one of the many wineries, breweries and cideries in the islands. Or visit several, just to compare!
Anchor at Montague Harbour (Galiano Island) and take the colorful "pub bus" to the Hummingbird Pub.
Walk to the intriguing McMillin Mausoleum at Roche Harbor.
Drop your crab pot and catch dinner!
Pick up an ice cream cone at Telegraph Harbor (Kuper Island).
Keep your eyes open for orcas!
Hike among the Madrona trees on Sucia Island.
Gather oysters in Desolation Sound.
Look for ancient rock paintings in Desolation Sound and Jervis Inlet.
Take a swim in Cassel Lake, above Cassel Falls. (Teakerne Arm, West Redonda Island, Desolation Sound)
Take a tour of the lavender farm on San Juan Island.
Rent a moped at Ganges (Salt Spring Island) to take the studio tour.
Take the ferry from Thetis Island to Chemainus, a town brightly painted with murals.
Anchor in Butchart Cove or Todd Inlet and tour Butchart Gardens.
Visit Victoria to watch the talented street performers and enjoy "high tea" at the Empress Hotel.