Basic to Bareboat Learn-n-Cruise
Basic Sailing (ASA 101), Basic Coastal Cruising (ASA 103) and Bareboat Cruising/Charter Certification (ASA 104)
(Noon Saturday through noon Friday)
Our most popular course! In just one week in the beautiful San Juan Islands, you can achieve your ASA Bareboat Cruising (Charter Certification) and be qualified to charter your own sailboat up to 40 feet in length anywhere in the world. This week-long learning vacation takes you out in the islands for a wonderful adventure of sailing, exploring and learning. Your only prerequisites are pre-study and a desire to learn.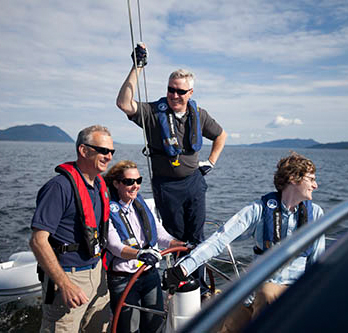 You'll set sail Saturday afternoon and spend each night anchored in a different one of the many scenic anchorages or quaint island ports found in the San Juan Island Archipelago.
Spend the week learning how to anchor, navigate, maneuver, trim sails, and skipper a larger sailboat while surrounded by the beautiful scenery and abundant wildlife unique to this part of the world.
We provide everything,including food (all students share in meal preparation and clean-up duties). All you need to bring is a desire to sail in this unique environment.
Your boat will vary in length from 30' to 45', and class size is limited to four students. This allows for plenty of time for individual instruction and hands-on learning.
Your instructor will cover the entire curriculum for three levels of certification: Basic Sailing, Basic Coastal Cruising, and Bareboat Cruising. When you return the following Friday, you should have achieved three levels of certification during the week, depending on your preliminary study, skills, and effort.
This is a "Non-Smoking" course. For the safety and learning of all aboard, alcoholic beverages are allowed only after instruction, when at dock or at anchor, with a 2 drink limit.
All Women option available. Click here for details.
This unique course is an exceptional value combining an incredible sailing adventure while leaning a lifelong skill. We've been teaching sailing for over 30 years and know how to do it right. In fact, most of our new students come to us by referrals.
You won't find a better value anywhere!
Tuition:



Includes $250 OFF your first weeklong charter with San Juan Sailing (if within 18 months of your course)
SPRING (3/24 – 6/22)
$1385 (ASA certifications extra)
$1485 All Inclusive (ASA certs, food, fuel & moorage)



---


SUMMER (6/23 – 9/29)
$1685 (ASA certifications extra)
$1785 All Inclusive (ASA certs, food, fuel & moorage)


Spring Special

Reserve a Spring Learn-N-Cruise and receive a manual/automatic inflation Type III, Coast Guard approved PFD (personal flotation device) - a $129.99 value.

Prerequisites:

Pre-study of sailing terms and principles, and a desire to learn to sail.

Course Dates (2018):

February 17 - 24, 2018
(Caribbean Option)>

March 24 – 30
March 31 – April 6
April 7 – 13
April 14 – 20
April 21 – 27
April 28 – May 4
May 5 – 11
May 12 – 18
May 19 – 25
May 26 – June 1
June 2 – 8
June 9 – 15
June 16 – 22
June 23 – 29
June 30 – July 6
July 7 – 13
July 14 – 20
July 21 – 27
July 28 – August 3
August 4 – 10
August 11 – 17
August 18 – 24
August 25 – 31
September 1 – 7
September 8 – 14
September 15 – 21
September 22 – 28

Required textbooks:

Sailing Made Easy by ASA
Coastal Cruising Made Easy by ASA
Bareboat Cruising Made Easy by ASA

Order texts online through ASA/American Sailing Association, through Amazon or iBooks, or check out from your local library.

What's next for graduates?

Click here for information on options to let you implement and enjoy what you have learned after graduation and to help you continue to build your sailing skills.
Please arrive at our office at 11:45 am. You'll drop off your gear, then head out for lunch at 12:00 noon, with your instructor and crewmates at a nearby café. You'll need to be fully prepared to take your Basic Sailing (ASA 101) written test either Saturday evening or Sunday morning, after you are on the boat. This is the first of three written tests. Each level of certification has a written exam and a skills exam and every few days another written exam will be completed. Thorough study of the textbooks will prepare you for the course and greatly enhance your learning. We highly recommend using the curriculum (link below), in conjunction with the textbooks, as a guide to help streamline your studying.
At the end of your learning vacation your boat will return to the San Juan Sailing docks by 1pm on Friday. Please allow yourself two additional hours to unload, debrief, and shower when planning your transportation home. All Learn-n-Cruise courses require a minimum of three students, maximum four students for confirmation.
Class size is limited, so please contact us at 360-671-8339 or school@sanjuansailing.com for course availability, to register or if you have additional questions. If none of the above dates fit your schedule, please contact us to explore alternate arrangements.