Weather in the San Juan Islands
and Gulf Islands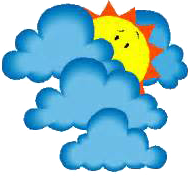 Some 450 islands dot the San Juan and Gulf Islands archipelago. Hundreds more lead north to Desolation Sound and Princess Louisa Inlet. These islands of the Salish Sea are shielded from ocean storms by 300 mile-long Vancouver island. And they lie in the rain shadow of Washington's Olympic Mountains. The result? Sunny, protected, line-of-sight cruising among picturesque, forested islands.
People often think of rain when they think of the Pacific Northwest, but because of the rain shadow the islands receive much less rain than you'd think! As with most places some years are wetter and some drier, but overall the San Juan Islands receive about 1/2 the rain as Seattle and experience an average of 247 sunny days per year. Summer temperatures are generally in the low to mid 70s and winter temperatures in the high 30s or low 40s. Visit our local weather trends page for a compilation of data.
Local Area Weather Links